In ancient times, dried fruit and nuts were served for dessert.
Perhaps we still carry this primeval memory within us, explaining why we enjoy gathering nuts so much.
Hitokuchigashi is a tribute to this memory.
Each colorful piece is an expression of the joy we shared as we gathered nuts with someone special.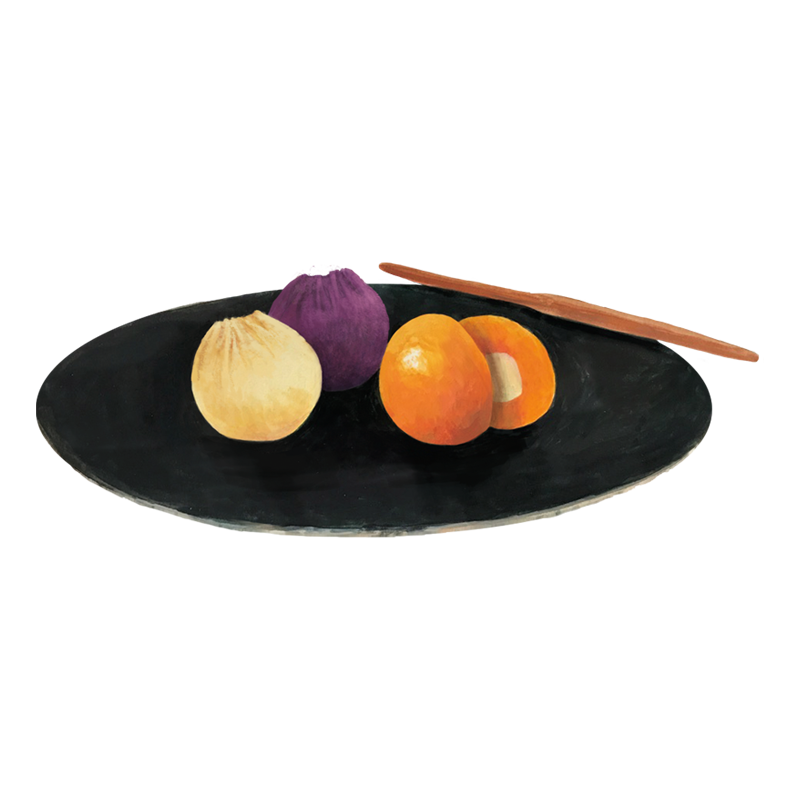 ---
Natsume Butter

Dried date + Fermented butter + Roasted walnut

Torinoko

Ginger + Honey jelly

Shikon

Purple sweet potato + Candied chestnut

Kokikuchinashi

Sweet potato + Butter + Black sesame

Rokocha

Mashed chestnut + Brandy jelly

Harizuri

Cacao + Hazelnut

Koji

Pumpkin + Cream Cheese

Moegi

Matcha + Rasins

Koimurasaki

Purple sweet potato + Cashewnut
Sekki Hitokuchigashi
A limited range of hitokuchigashi : each variety incorporates seasonal ingredients to stay in touch with the twenty-four seasonal divisions of the traditional solar calendar.
---
Shinshu

RisshunEarly February –

Usukihada

UsuiMid February –

Byakuroku

KeichitsuEarly March –

Usuyanagi

ShunbunMid March –

Tokiwa

SeimeiEarly April –

Shironeri

KokuMid April –

Wakanae

RikkaEarly May –

Iwanu

ShomanMid May –

Komachinezu

BoshuEarly June –

Tomorokoshi

GeshiMid June –

Usuko

ShoshoEarly July –

Kobicha

TaishoMid July –

Kurumi

RisshuEarly August –

Korigasane

ShoshoMid August –

Karamomo

HakuroEarly September –

Sharegaki

ShubunMid September –

Edocha

KanroEarly October –

Matcha

SokoMid October –

Kurotsurubami

RittoEarly November –

Kohaku

ShosetsuMid November –

Karacha

TaisetsuEarly December –

Kurobeni

TojiMid December –

Shikkoku

ShokanEarly January –

Korozen

DaikanMid January –